Mechanical Seals Manufacturers and Supplier in Mumbai, India
Mechanical seals are a device implemented to maintain the reliability of the installed systems such as agitator, mixers and pumps by preventing fluid leaks and keeping contaminations and waste products out. Mechanical pump seals act as a seal between a rotating or reciprocating part and a stationary part on rotating equipment i.e. Pumps, Agitators, Mixers, Vessels etc. The use of the term "seal" is a misnomer; as a mechanical seal is a restricting flow path, that is either an angular or radial gap. The flow through this gap is generally so low it goes unnoticed if a liquid or insignificant if a gas. We are among the top 10 mechanical seal manufacturers in India. For every seal developed by Ashish seals, we use advanced computational facilities and numerical tools to design and enhance seal performance prior to manufacture and testing.
Today, we provide an extensive range of mechanical seals for applications requiring high levels of safety and quality. Our Mechanical Seals PDF is a starter reference source to help customers identify standard mechanical seal recommendations.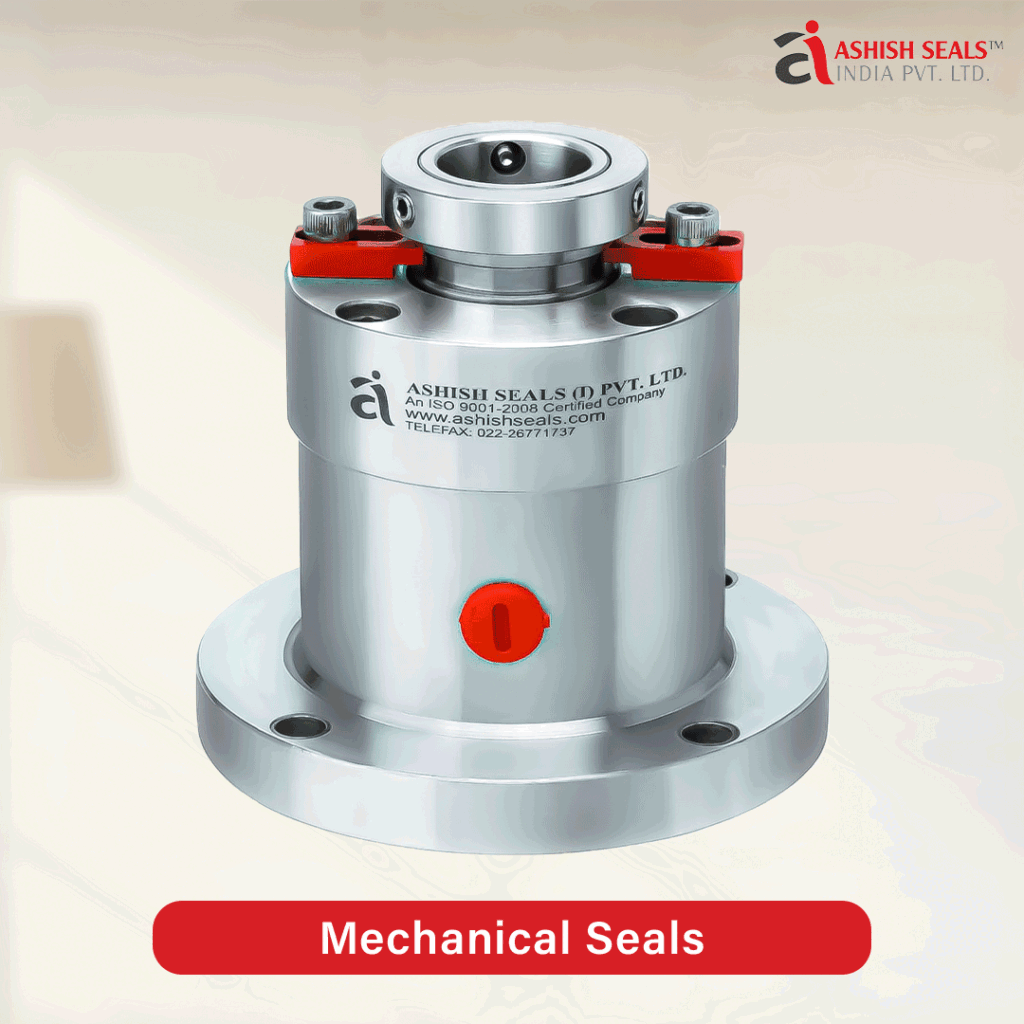 Mechanical Seal Price List
The average Mechanical Seals cost in the market is mentioned below: –
| | |
| --- | --- |
| Product Range | Price |
| Bottom Entry Agitator Mechanical Seal | – |
| Double Agitator Reactor Mechanical Seal | – |
| Double Cartridge Mechanical Seal | – |
| Metal Bellow Mechanical Seal | – |
| Reactor Mechanical Seals | – |
Further price list in PDF format is available Download Here.
(Prices shown above are provisional prices and may change due to different market conditions and requirements.)
How Do Mechanical Seals Work?
A basic mechanical seal contains three sealing points: – The stationary part of the seal is fixed to the pump housing with a static seal –this may be sealed with an O-ring or gasket clamped between the stationary portion and the pump housing. The rotary part of the seal is sealed on the shaft generally with an O ring. This sealing point can also be considered as static as this part of the seal revolves with the shaft.
Function of Mechanical Seal
The mechanical shaft seal itself is the interface between the static and rotary portions of the seal.
One portion of the seal, either to the static or rotary part, is always resiliently mounted and spring loaded to accommodate any minor shaft deflections, shaft movement due to bearing tolerances and out-of-perpendicular arrangement due to manufacturing tolerances.

Sealing Points
While two of the sealing points in a seal arrangement are simple static seals, the seal between the stationary and rotating member requires a little more consideration. This primary seal is the foundation of all seal design and is vital to its efficiency.

The primary seal is basically a spring loaded vertical bearing – consisting of two extremely flat faces, one fixed, one rotating, running against each other.  The seal faces are pushed together using a combination of hydraulic force from the sealed fluid and spring force from the seal design. In this way a seal is designed to prevent process leaking between the rotating (shaft) and stationary areas of the pump.

The surfaces of the seal faces are super-lapped to a high amount of flatness; generally, 2-3 Helium light-bands (0.00003" / 0.0008mm).
If the seal faces revolved against each other without any form of lubrication they would wear and quickly fail due to face friction and heat generation. For this purpose, some form of lubrication is necessary between the rotary and stationary mechanical seals face; this is known as the fluid film

The Fluid Film
In most mechanical face seals the faces are kept lubricated by maintaining a thin film of fluid between the seal faces. This film can either come from the process fluid being pumped or from an outside source.

The requirement for a fluid film between the faces presents a design challenge – enabling ample amounts of lubricant to flow between the seal faces without the seal leaking an unacceptable amount of process fluid, or letting contaminants in between the faces that could damage the seal itself.
This is achieved by maintaining a particular gap between the faces that is big enough to allow in a small amount of clean lubricating liquid but small enough to stop contaminants from entering the gap between the mechanical seal faces.

The gap between the faces on a typical seal is as tiny as 1 micron – 75 times thinner than a human hair. Because the gap is so small, particles that would otherwise damage the seal faces are unable to enter, and the amount of liquid that escapes through this space is so minor that it appears as vapour – around ½ a teaspoon a day on a typical application. This micro-gap is upheld using springs and hydraulic force to push the seal faces together, while the pressure of the liquid between the faces (the fluid film) acts to push them away from each other. Without the pressure pushing them apart the two seal faces would be in full interaction, this is known as dry running and would lead to rapid seal failure.

Without the process pressure (and the force of the springs) pushing the faces together the seal faces would separate too far, and allow fluid to leak out.

Mechanical seal manufacturing focuses on increasing the durability of the primary seal faces by ensuring a high quality of lubricating fluid, and by selecting suitable mechanical seal faces materials for the process being pumped.
How do you manufacture mechanical seals?
As technology continues to advance, so do the manufacturing abilities for mechanical seal assembly. With advanced machines the manufacturing procedure of the mechanical seal is performed with accuracy, precision and exceptional quality.

State of the art lathes and CNC metal working equipment are operated by highly proficient master machinists. In the initial manufacturing state, our systems combine three operations bringing the seal components to a 90% conclusion stage. Perfect arrangement of the anticipated CAD program is fed into the computer with the CAM system. This assures precise design tolerance.

As an experienced mechanical seals manufacturer Ashish seals uses the latest technology and the best raw materials to produce the best mechanical seals in the market. Contact one of the leading Mechanical seals supplier if you have any queries or want to know more about the products.
AGITATOR MECHANICAL SEALS: – Agitator Mechanical Seals are functionally designed for handling extreme hard conditions like products producing toxic vapours during the reaction procedure. In Agitator Mechanical Seals, the bearing is installed very close to the seal. This type of assembly efficiently halts the shaft whip for smooth operation, allowing greater seal life. The cooling jacket, also a standard feature, helps to maintain a cool environment around the seal. Large clearance between the rotating shaft/sleeve and mating ring enables greater deflection of the shaft, invariably related to top-entry agitators.
CARTRIDGE MECHANICAL SEALS: – Cartridge Mechanical Seal is a self-sufficient unit comprising mechanical seals in a seal chamber in any combination which can be used as a pressure barrier fluid or a non-pressurised buffer liquid. Cartridge Mechanical Seals arrangements are an excellent upgrade to single cartridge seals when it is vital the media does not leak into the atmosphere.
METAL BELLOW MECHANICAL SEALS: – Metal Bellow Mechanical Seals are generally used in the high temperature and extremely corrosive media and appropriate for high start-up torque since the bellow unit is independent of torque transmission. The unique feature of welded metal bellow mechanical seals is that there are no dynamic "0" rings and therefore it will never hang-up or damage the mechanical sleeve seals and shaft.
REACTOR MECHANICAL SEALS: – Reactor Mechanical Seals comprises a reactor that works to seal a moving or reciprocating part. It contains stationary and rotating seal faces that are made from one hard and one softer material. The Reactor Mechanical Seals act as a stopper from process to atmosphere and seal leaks on parts of Reactors, mixers, and vessels.
RUBBER BELLOW MECHANICAL SEALS: – Rubber Bellow Mechanical Seals contain an open-coil helical spring that generally works towards offering resistance to a compressive force, which is applied axially. The Helical Coil Spring can be coiled as conical, concave, convex, or even in different combinations, but these springs are usually coiled at a constant diameter. The compression helical coil springs are mainly used to resist the force and even store the energy, depending upon the application.
SPRING MECHANICAL SEALS: – Spring Mechanical Seals are rugged in design and find their wide application for different purposes. It is used to handle corrosive chemicals, chemical process pumps, water, sewage & submersible pumps as well as light and general chemicals.
TEFLON BELLOW MECHANICAL SEALS: – Teflon Bellow Mechanical Seal is a simple kind of seal that works in a technique of containing fluid present in a vessel, which can be typically a pump or a mixer. The Teflon Bellow Mechanical Seal is designed for handling extremely corrosive chemicals including caustic, concentrated acids, strong oxidizing, and reducing agents making the vessel leak-free. The PTFE bellow seal or Teflon bellow seal are simple to install and remove. The Teflon Bellow Mechanical Seals are mounted outside with a simple connection procedure and used in different applications especially for corrosive media sealing.
Different mechanical seals are used for different applications. To know more about which mechanical seal is ideal as per your requirements Download
Applications of Mechanical seals
Mechanical Seals for Blenders: – Blenders are extensively used to stir, shake liquids or mixtures of liquids and are widely used for several operations in the chemical, pharmaceutical, food, grease, metal extraction, paint, adhesive, water, and cosmetic industries. Mechanical Seal for Blenders forms a seal between a rotating or reciprocating part and a stationary part on an agitator blender. This seal works by creating a restrictive flow path, this is either an axial or circular gap.
Mechanical Seals for Dryers: – Industrial dryers are often used in many types of industrial processing applications. The main function of dryers is to eliminate or remove moisture, water and other solvents from the material under processing. Industrial dryers find applications in industries like food, fertilizer, pharmaceutical, chemicals, cement, and others (minerals and paper & pulp). Mechanical Seals help dryers perform as anticipated by delivering a sealed processing environment inside while still allowing the system to function efficiently.
Mechanical Seals for Mixers: – Mixers are widely used to mix different materials using diverse kinds of blades to make a homogeneous mixture and find applications in numerous industries like pharmaceutical, food, chemical, plastic and mineral industries. Mechanical Seal for Mixers provides sealing at high speed, high pressure equipment along with necessities for longer working life and minimum maintenance cost.
Mechanical Seals for Pumps: – Mechanical seals for Pumps are competently used to maintain the reliability of the pump systems by preventing fluid leaks and keeping contaminations and waste products out. Mechanical seals for Pumps find applications on different types of equipment like agitators, mixers, vessels, glass lined reactors and dryers in several industries such as pharmaceuticals, paints, pulp & plastic industries.
Mechanical Seals for Vessels: – Reaction vessels are used to contain the reactants taking part in a reaction and finds applications in various industries like food, chemical, drugs, dyes and allied industries. Mechanical seals in vessels consist of a contact surface that is entirely plain and polished that helps in stopping the path of microorganisms through the sealing gap.
Miscellaneous Mechanical Seal Applications: – Mechanical seals are used to efficiently maintain the reliability of the installed systems by preventing fluid leaks and keeping contaminations and waste products out. Mechanical Seals finds applications on numerous types of equipment like agitators, mixers, vessels, glass lined reactors and dryers in pharmaceuticals, paints, pulp & plastic industries.
Types of Mechanical Seals offered by Ashish Seals
Note: Please note that the information on this document is for illustration purposes only as information may vary with individual products, their grade and applications industries or uses and therefore cannot be guaranteed as accurate. © Copyright 2022 © Ashish Seals All Rights Reserved (Terms of Use). Recreation of any materials from the site is strictly prohibited without permission. Ashish Seals' products are sold exclusively through Ashish Seals' website. Use Terms | Privacy. Please contact us to discuss precise product specifications and requirements and obtain advice on which products are required to suit your exact application needs [email protected]