Ashish Seals manufacturing and exporting high quality Thermosyphon Pot System worldwide.
Ashish Seals – one of the leading manufacturers and suppliers of Mechanical Seals in Mumbai, India. Ashish Seals is India's renowned Industrial Thermosyphon Pot System exporter.
Characteristics :
Standard design, Single mechanical seal, Reverse balanced, Outside mounted, Independent of direction of rotation, Available With/without bearing, Top/Side entry agitators.
Objective :
To provide a flow of cooling media to the mechanical seal at required pressure.
Major Benefits :
Prevents dry run
Keeps seal cooled & lubricated
Extends the life of the seal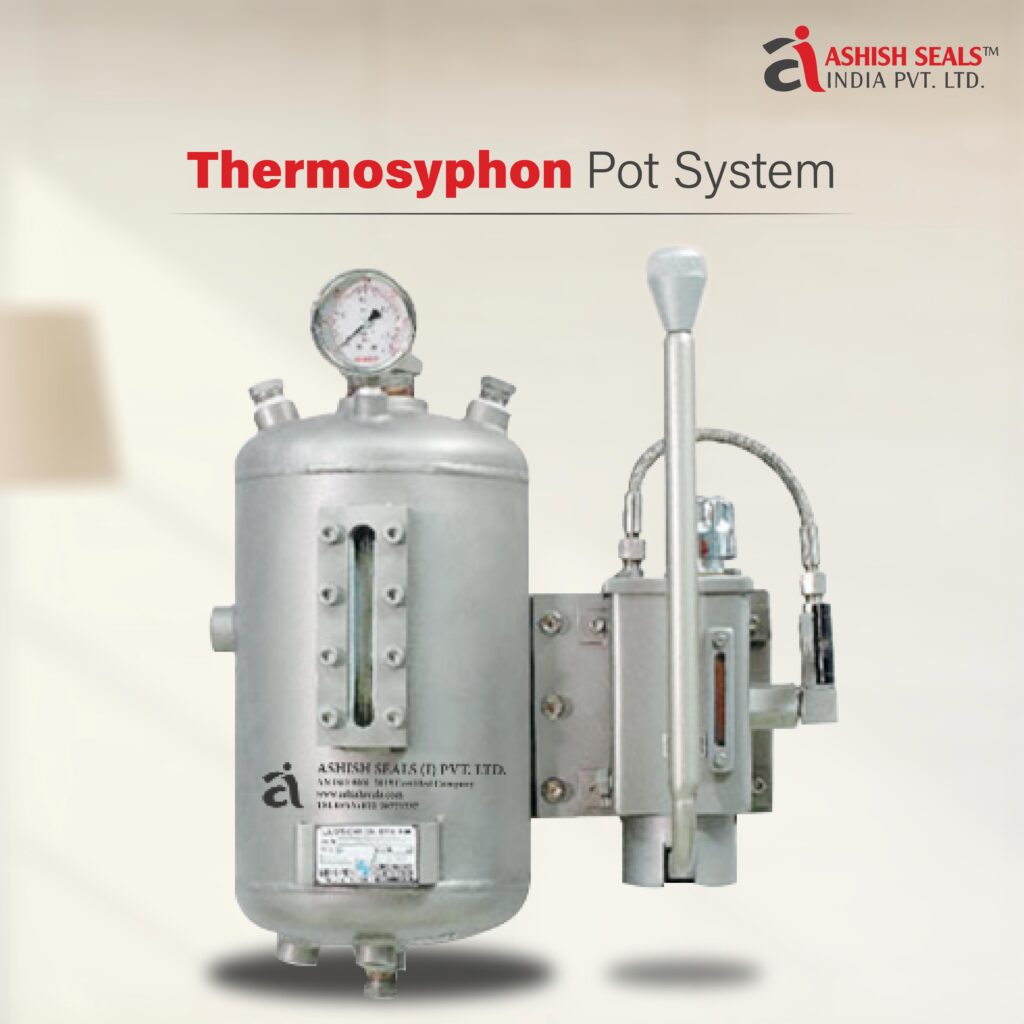 Thermosyphon Pot System Supplier
Thermosyphon Pot System is functionally designed for double mechanical seas having pumping feature having wide application in different industries such as oil, petrochemical, gas, refining, and chemical industry. Thermosyphon Pot System is used for double mechanical seals in tandem or back to back seal arrangement providing needed lubrication and cooling to the seal faces for long shelf life. The Thermosyphon Pot System is fitted with a cooling coil present within the shell for bringing down the temperature of the barrier fluid that comes from the seal to Thermosyphon.
Working Principle
Thermosyphon pot systems are used for smooth running of mechanical seals by offering a counter pressure to the system. This will result in its intact seal faces and bring down the temperature in the seal chamber providing continuous lubrication to seal faces. The seal face gets rubbed against each other at a very high speed and as a result, heat is generated on and near seal faces creating a thin fluid film between the seal faces that disables the dry running of the seal faces. In a thermosyphon pot system, pressure is higher than the system and in case of leakage, the media is pressurised into the system making the entire system leak proof.
Applications of Thermosyphon Pot System
Thermosyphon Pot System finds applications in numerous industries like refining, oil and gas industry, chemical industry, petrochemical industry.

Search for Tags :thermosyphon pot for mechanical seal, thermosyphon pot working principle, mechanical seal
Specifications of Thermosyphon Pot System
For Technical Parameters / Specifications, please download
Since 2005, Ashish Seals, has become one of the most trusted and quality-driven manufacturers, exporters and suppliers of Mechanical Seals, Cartridge Mechanical Seal, Rotary Union, Pump Mechanical Seal, Rubber Bellow Mechanical Seals, Metal Bellow Mechanical Seal, Agitator Mechanical Seal, Thermosyphon System, Reactor Mechanical Seal, Rubber Bellow Mechanical Seal Equivalent, Single Acting Mechanical Seal Balance, etc.
At Ashish Seals, we are well-equipped with technology to design the superior performance Single Agitator Mechanical Seals and are renowned in designing the best customized version to meet specific criteria and are with industry-leading engineers who provide you excellence with innovation. Ashish Seals' success is based on extensive product range, top-notch engineering, more than 16 years' experience, and guarantee of after-sales service and consultation support.
| | | |
| --- | --- | --- |
| Pulp & Paper Industry | Pharmaceuticals Equipment | Machine Tools |
| Textile Industry | Power Plants | Printing Industry |
| Packaging & Plastics | Petrochemicals | Corrugators Machines |
| Oil & Gas Industry | Water and Wastewater Treatment | Food and Beverages |
| Rubber & Tyre | Automotive Industry | Mining Slurries |
Ashish Seals manufacturing and exporting Seal in worldwide.
Ashish Seals supplying to these Indian Cities.
Mumbai| Pune |Ahmedabad| Bengaluru| Chennai| Delhi| Kolkata| Hyderabad| Agra| Ajmer| Aligarh| Amravati| Amritsar| Asansol| Aurangabad| Bareilly| Belgaum| Bhavnagar| Bhiwandi| Bhopal| Bhubaneswar| Bikaner| Bilaspur| Bokaro Steel City| Chandigarh| Coimbatore| Cuttack| Dehradun| Dhanbad| Bhilai| Durgapur| Erode| Faridabad| Firozabad| Ghaziabad| Gorakhpur| Gulbarga| Guntur| Gwalior| Gurugram| Guwahati| Hamirpur| Hubli–Dharwad| Indore| Jabalpur| Jaipur| Jalandhar| Jalgaon| Jammu| Jamnagar| Jamshedpur| Jhansi| Jodhpur| Kakinada| Kannur| Kanpur| Karnal| Kochi| Kolhapur| Kollam| Kozhikode| Kurnool| Ludhiana| Lucknow| Madurai| Malappuram| Mathura| Mangalore| Meerut| Moradabad| Mysore| Nagpur| Nanded| Nashik| Nellore| Noida| Patna| Puducherry| Purulia| Prayagraj| Raipur| Rajkot| Rajamahendravaram| Ranchi| Rourkela| Ratlam| Salem| Sangli| Shimla| Siliguri| Solapur| Srinagar| Surat| Thanjavur| Thiruvananthapuram| Thrissur| Tiruchirappalli| Tirunelveli| Tiruvannamalai| Ujjain| Vijayapura| Vadodara| Varanasi| Vasai-Virar City| Vijayawada| Visakhapatnam| Vellore| Warangal
Ashish Seals supplying to these locations across the world :
African Countries
South Africa , Nigeria, Kenya, Ghana, Ethiopia, Tanzania, Johannesburg, Algeria, Angola, Benin, Botswana, Burkina Faso, Burundi, Cabo Verde, Cameroon, Central African Republic (CAR), Chad, Comoros, Democratic Republic of the Congo, Côte d'Ivoire, Djibouti, Egypt, Equatorial Guinea, Eritrea, Gabon, Gambia, Guinea, Guinea-Bissau, Lesotho, Liberia, Libya, Madagascar, Malawi, Mali, Mauritania, Mauritius, Morocco, Mozambique, Namibia, Nigeria, Rwanda, Sao Tome and Principe, Senegal, Seychelles, Sierra Leone, Somalia, South Sudan, Sudan, Swaziland, Togo, Tunisia, Uganda, Zambia, Zimbabwe.
Gulf and other Countries
Oman, Qatar, Kuwait, Saudi Arabia, Dubai, Bahrain, Iran, United Arab Emirates, Australia, Sydney, Queensland, Melbourne, Perth, Adelaide, New Zealand, Auckland, Wellington, Hamilton.
Asian Countries
Afghanistan, Armenia, Azerbaijan, Bahrain, Bangladesh, Bhutan, Brunei, Cambodia, China, Cyprus, Georgia, India, Indonesia, Iran, Iraq, Israel, Japan, Jordan, Kazakhstan, Kuwait, Kyrgyzstan, Laos, Lebanon, Malaysia, Maldives, Mongolia, Myanmar (Burma), Nepal, North Korea, Oman, Pakistan, Palestine, Philippines, Qatar, Russia, Saudi Arabia, Singapore, South Korea, Sri Lanka, Syria, Taiwan, Tajikistan, Thailand, Timor-Leste, Turkey, Turkmenistan, Uzbekistan, Vietnam, Yemen
South American Countries
Argentina, Ecuador, Suriname, Bolivia, Brazil, Guyana, Uruguay, Chile, Colombia, Paraguay, Peru, Venezuela
Note: Please note that the information on this document is for illustration purposes only as information may vary with individual products, their grade and applications industries or uses and therefore cannot be guaranteed as accurate. © Copyright 2022 © Ashish Seals All Rights Reserved (Terms of Use). Recreation of any materials from the site is strictly prohibited without permission. Ashish Seals' products are sold exclusively through Ashish Seals' website. Use Terms | Privacy. Please contact us to discuss precise product specifications and requirements and obtain advice on which products are required to suit your exact application needs [email protected]