Single Reactor Mechanical Seal
Ashish Seals manufacturing and exporting high quality Single Reactor Mechanical Seal worldwide.
Ashish Seals – one of the leading manufacturers and suppliers of Mechanical Seals in Mumbai, India. Ashish Seals is India's renowned Industrial Single Reactor Mechanical Seal exporter.
Characteristics
| | | |
| --- | --- | --- |
| Product Code | : |  AS91 |
| Shaft Diameter | : | 25mm to 150mm |
| Pressure | : | Vacuum to 10 bar (max.) |
| Temperature | : | Ambient to 180°C |
| Speed | : | 320 rpm (max.) |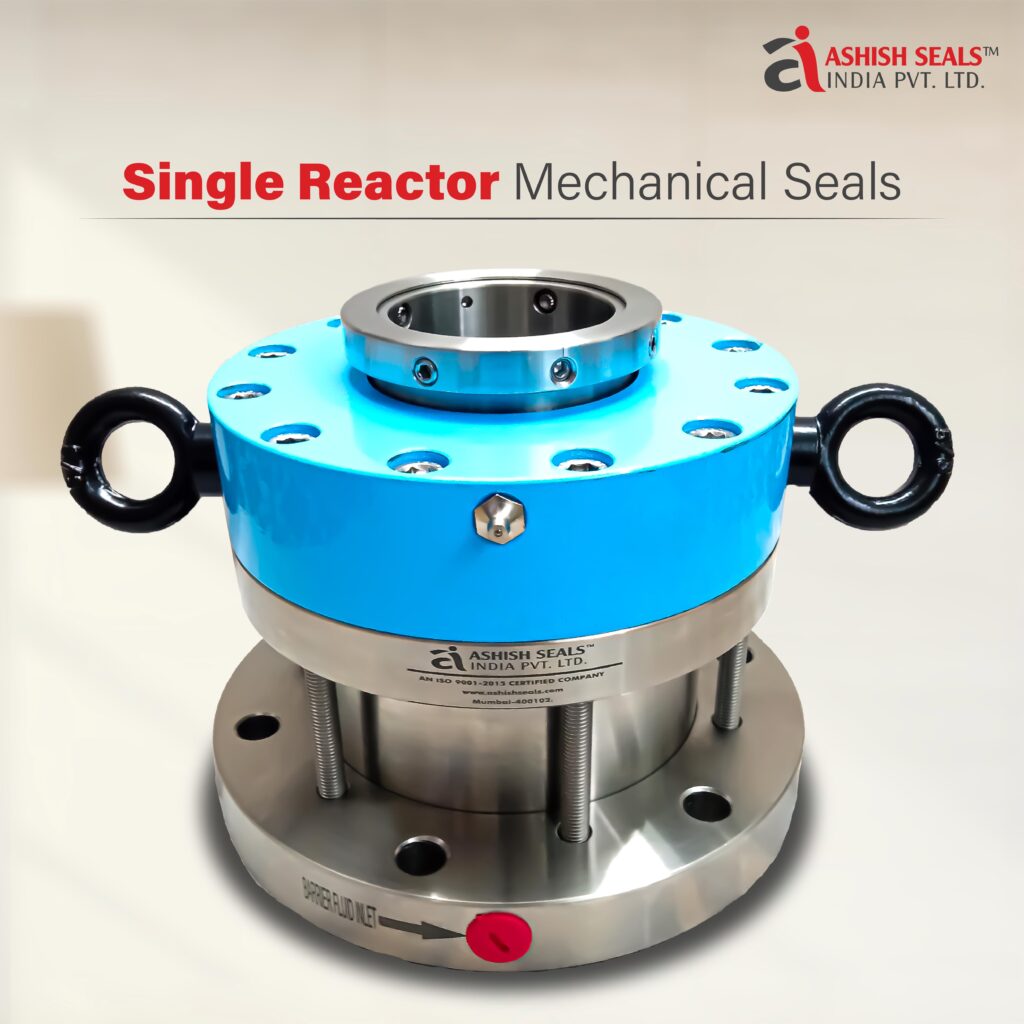 Single Reactor Mechanical Seal Supplier
A Single Reactor Mechanical Seal consists of a single Reactor that works to seal a moving or reciprocating part. It contains stationary and rotating seal faces that are made from one hard and one softer material. The Single Reactor Mechanical Seal acts as a stopper from process to atmosphere and seals leaks on parts of Reactors, mixers, and vessels. Single Reactor Mechanical Seal makes a flow path that is constrictive either in an axial position or in radial position and is very efficient in containing the flow through the gap, which remains undetected when it comes to liquid or gas. 
A Single Reactor Mechanical Seal is normally used when the pumped process fluid presents little to no risk to the environment and is essentially used on top entry Reactors as dry running seals. In a Single Reactor Mechanical Seal, the flow through this gap is usually so little it goes ignored if a liquid or inconsequential if a gas. The Single Reactor Mechanical Seal provides considerable cost and energy savings when used as an alternative to gland packing.
Applications of Single Reactor Mechanical Seal
The Single Reactor Mechanical Seal is primarily used in beverage and pharma bulk drugs companies for mixing of any other liquid that will contaminate the product and affect its quality. 
Specifications of Single Reactor Mechanical Seal
For Technical Parameters / Specifications, please download
Since 2005, Ashish Seals, has become one of the most trusted and quality-driven manufacturers, exporters and suppliers of Mechanical Seals, Cartridge Mechanical Seal, Rotary Union, Pump Mechanical Seal, Rubber Bellow Mechanical Seals, Metal Bellow Mechanical Seal, Agitator Mechanical Seal, Thermosyphon System, Reactor Mechanical Seal, Rubber Bellow Mechanical Seal Equivalent, Single Acting Mechanical Seal Balance, etc.
At Ashish Seals, we are well-equipped with technology to design the superior performance Single Agitator Mechanical Seals and are renowned in designing the best customized version to meet specific criteria and are with industry-leading engineers who provide you excellence with innovation. Ashish Seals' success is based on extensive product range, top-notch engineering, more than 16 years' experience, and guarantee of after-sales service and consultation support.
| | | |
| --- | --- | --- |
| Pulp & Paper Industry | Pharmaceuticals Equipment | Machine Tools |
| Textile Industry | Power Plants | Printing Industry |
| Packaging & Plastics | Petrochemicals | Corrugators Machines |
| Oil & Gas Industry | Water and Wastewater Treatment | Food and Beverages |
| Rubber & Tyre | Automotive Industry | Mining Slurries |
Ashish Seals manufacturing and exporting Seal in worldwide.
Ashish Seals supplying to these Indian Cities.
Mumbai| Pune |Ahmedabad| Bengaluru| Chennai| Delhi| Kolkata| Hyderabad| Agra| Ajmer| Aligarh| Amravati| Amritsar| Asansol| Aurangabad| Bareilly| Belgaum| Bhavnagar| Bhiwandi| Bhopal| Bhubaneswar| Bikaner| Bilaspur| Bokaro Steel City| Chandigarh| Coimbatore| Cuttack| Dehradun| Dhanbad| Bhilai| Durgapur| Erode| Faridabad| Firozabad| Ghaziabad| Gorakhpur| Gulbarga| Guntur| Gwalior| Gurugram| Guwahati| Hamirpur| Hubli–Dharwad| Indore| Jabalpur| Jaipur| Jalandhar| Jalgaon| Jammu| Jamnagar| Jamshedpur| Jhansi| Jodhpur| Kakinada| Kannur| Kanpur| Karnal| Kochi| Kolhapur| Kollam| Kozhikode| Kurnool| Ludhiana| Lucknow| Madurai| Malappuram| Mathura| Mangalore| Meerut| Moradabad| Mysore| Nagpur| Nanded| Nashik| Nellore| Noida| Patna| Puducherry| Purulia| Prayagraj| Raipur| Rajkot| Rajamahendravaram| Ranchi| Rourkela| Ratlam| Salem| Sangli| Shimla| Siliguri| Solapur| Srinagar| Surat| Thanjavur| Thiruvananthapuram| Thrissur| Tiruchirappalli| Tirunelveli| Tiruvannamalai| Ujjain| Vijayapura| Vadodara| Varanasi| Vasai-Virar City| Vijayawada| Visakhapatnam| Vellore| Warangal
Ashish Seals supplying to these locations across the world :
African Countries
South Africa , Nigeria, Kenya, Ghana, Ethiopia, Tanzania, Johannesburg, Algeria, Angola, Benin, Botswana, Burkina Faso, Burundi, Cabo Verde, Cameroon, Central African Republic (CAR), Chad, Comoros, Democratic Republic of the Congo, Côte d'Ivoire, Djibouti, Egypt, Equatorial Guinea, Eritrea, Gabon, Gambia, Guinea, Guinea-Bissau, Lesotho, Liberia, Libya, Madagascar, Malawi, Mali, Mauritania, Mauritius, Morocco, Mozambique, Namibia, Nigeria, Rwanda, Sao Tome and Principe, Senegal, Seychelles, Sierra Leone, Somalia, South Sudan, Sudan, Swaziland, Togo, Tunisia, Uganda, Zambia, Zimbabwe.
Gulf and other Countries
Oman, Qatar, Kuwait, Saudi Arabia, Dubai, Bahrain, Iran, United Arab Emirates, Australia, Sydney, Queensland, Melbourne, Perth, Adelaide, New Zealand, Auckland, Wellington, Hamilton.
Asian Countries
Afghanistan, Armenia, Azerbaijan, Bahrain, Bangladesh, Bhutan, Brunei, Cambodia, China, Cyprus, Georgia, India, Indonesia, Iran, Iraq, Israel, Japan, Jordan, Kazakhstan, Kuwait, Kyrgyzstan, Laos, Lebanon, Malaysia, Maldives, Mongolia, Myanmar (Burma), Nepal, North Korea, Oman, Pakistan, Palestine, Philippines, Qatar, Russia, Saudi Arabia, Singapore, South Korea, Sri Lanka, Syria, Taiwan, Tajikistan, Thailand, Timor-Leste, Turkey, Turkmenistan, Uzbekistan, Vietnam, Yemen
South American Countries
Argentina, Ecuador, Suriname, Bolivia, Brazil, Guyana, Uruguay, Chile, Colombia, Paraguay, Peru, Venezuela
Note: Please note that the information on this document is for illustration purposes only as information may vary with individual products, their grade and applications industries or uses and therefore cannot be guaranteed as accurate. © Copyright 2022 © Ashish Seals All Rights Reserved (Terms of Use). Recreation of any materials from the site is strictly prohibited without permission. Ashish Seals' products are sold exclusively through Ashish Seals' website. Use Terms | Privacy. Please contact us to discuss precise product specifications and requirements and obtain advice on which products are required to suit your exact application needs [email protected]